THIS POST MAY CONTAIN AFFILIATE LINKS, PLEASE READ MY DISCLOSURE FOR MORE INFO.
You are going love these twenty easy keto breakfast recipes, especially if you're sick of the same basic bacon and eggs for breakfast!
Now bacon and eggs with a veggie is alway my go to breakfast on keto, but I admit it can sometimes get a little boring. These insanely delicious keto breakfasts below are going help get you break out of your breakfast rut!
On a side note, I always like to pick one of my favorite keto blogs that are featured within my post and  share with you guys why I love them so much. My hopes is you guys will find some new places to get some awesome keto recipe ideas!
When I first started eating keto, one thing I feel like I missed was comfort food.  Sure, we get the fattiness and cheese certain comfort foods have on keto, but sometimes I miss fried breaded food or foods that center around wheat products. Maybe you feel the same?
Cue Mince Republic, if you haven't checked out some of Kayla's keto comfort food, you are really missing out! Kayla has  keto friendly recipes of all your favorites: mac N cheese, tacos, biscuits and gravy, beef empanadas, pizza and more.
Oh and she has a lot of other yummy looking recipes too, but maybe I just have comfort food on the brain today lol.
Oh, and one last thing…
If you guys are looking for an awesome keto  plan, I found this Fat Fueled Keto Program Ebook very helpful! It is an extensive keto program that gives you a 30 day meal plan and over 60 recipes!
You can check it out here, just thought I'd share because it has been an invaluable resource on my keto journey!
Hope you guys enjoy starting your day off with these tasty keto breakfast recipes below! Enjoy and let me know how they work out.

There's nothing like a loaded omelette to make you feel full until your next meal!  Chorizo is so fatty and protein rich that you are going feel so satisfied. I made this dish the other day and it was beyond delicious!
2. Bacon & Egg Biscuit Breakfast Sandwich (Via Mince Republic)

If you are missing those breakfast sandwiches from McDonalds, try these instead.  They're better for you and eating something made with whole foods is going make you feel better, verses being in a fast food comatose.
Be sure to follow my Keto Recipes Board on Pinterest for even more amazing keto goodness!

Some days you just don't have time to sit at the table and enjoy a good meal.  Reading Mince Republic's post about this recipe reminded me you should have some "slow mornings" as Kayla says and take time for "enjoying the little moments".
I love that, and can't think of a better breakfast to have while sharing a meal with someone on a lazy Saturday or Sunday morning. Oh and did I mention the cream cheese frosting?

When you're craving Mexican food, this tasty skillet is going hit the spot.  Best of all it is the perfect breakfast for those busy mornings because you can throw it together in 15 minutes.
5. Strawberry Chia Parfait (Via KetoDiet Blog)

These yogurt parfaits are naturally sweetened with strawberries and are the perfect breakfast (or snack) to take with you to work.  Chia seeds are awesome because they provide you with omega-3, fatty acids, iron, and so much more!

6. Mini Mushroom Frittatas With Cottage Cheese & Feta (Via Kalyn's Kitchen)

Mushroom and feta pair so well together and making these fritattas mini and transportable is genius!  You can keep these for a week in the fridge and pop in the microwave making them a perfect meal prep staple!
7. Coconut Flour Pancakes (Via Wholesome Yum)

Fluffy pancakes are possible on keto, the recipe has to be just right and Wholesome Yum definitely achieved this.  Smother these babies in maple syrup (she gives you a sugar free recipe) and butter and you've found yourself the perfect weekend breakfast.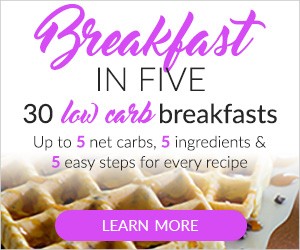 If you are a pizza leftovers in the morning type of person, you are going really enjoy this egg crusted breakfast pizza!
And if you want more pizza yumminess, I've made Kalyn's deconstructed pizza casserole multiple times for dinner and eat the leftovers for breakfast. I swear eating it cold tastes JUST like pizza.  Be sure to check that one out as well, Kalyn's recipes never disappoint!
9. Almond Crusted Breakfast Cheesecake (Via Joy Filled Eats)

Umm breakfast cheesecake, yes please!  This almond crust is so good, you won't even miss the graham cracker crust of traditional cheesecakes. Top off with some fresh berries and you have a healthy breakfast that'll satisfy your sweet tooth.
10. Warm Breakfast Salad (Via Cotter Crunch)

This idea of a warm breakfast salad is really intriguing.  You don't normally equate breakfast and salads together, but the warmness of the eggs go really well with the veggies. What a great way to get in your greens for the day!
11. Sausage & Egg Pepper Rings (Via Keto Size Me)

If you're a little sick of the same old meat and egg combo, this yummy egg and pepper ring recipe is a great way to get out of your egg funk! This keto breakfast recipe centers around basic and whole ingredients that you might already have in your kitchen, which is always nice.
12. Jalapeno Popper Egg Cups (Via ruled.me)

Think of these as little guys as jalapeno poppers in egg cup form, YUM! These give you a healthy dose of fat and protein that you can take with you anywhere.
13. Low Carb Strawberry Smoothie (Via Wholesome Yum)

Some mornings are crazy hectic and it's nice just to grab a smoothie to go. Low in carbs and chalked full of healthy fat, this smoothie is definitely keto approved.
14. Quick Egg Breakfast Roll Ups (Via ruled.me)

Craig from ruled.me describes this breakfast as the "ultimate keto fast food", and I couldn't think of a better way to describe these! Another added bonus is you can prep these roll ups ahead of time and reheat them.
15. Easy Protein Coffee (Via Hey Keto Mama)

If you're a fan of bullet proof coffee, which is really popular on keto, you'll love this protein rich coffee! What makes this delish drink different from bullet proof coffee is you are getting tons of protein (a whopping 27 grams).
This awesome travel mug is my favorite for taking my keto coffee with me on the go.
I've tried some cruddy travel mugs in the past, but this one keeps my coffee and tea hot for hours.  Plus, it is leak proof, so I literally can throw it in my bag and it won't spill!

One of my favorite breakfasts of all time is eggs benedict and I never thought I'd be able to enjoy this dish again while sticking to my keto diet (RIP English muffins).
Luckily, I was mistaken and am happy to report this casserole tastes just like the real deal. Her recipe for the hollandaise sauce to go on top was so insanely good, I didn't even miss the English muffin.
17. Lemon Blueberry Muffins (Via Keto Size Me)

Low carb and high in fat, these muffins wills save you on those days you are craving something that tastes carby, but really isn't. The lemon gives that refreshing, zingy flavor, which complements the sweetness of the blueberries perfectly.

Eggs atop pan seared mushrooms is a great way to start off your day!  Mushrooms provide you with so many nutrients like various B vitamins and are high in antioxidants. Try to add this superfood into your diet whenever possible!
19. Cinnamon Roll Waffles W/Cream Cheese Frosting (Via Joy Filled Eats)

Waffles, cinnamon rolls, and keto don't seem like they should belong in the same sentence, but Joy Filled Eats found a way to make these keto style!  These look absolutely delicious and I'm sure you will devour every last bit of the cream cheese frosting! YUM!
20. Ham & Cheese Pockets (Via KetoDiet Blog)

So confession here, growing up (and a little bit in college lol), I may have eaten Hot Pockets a couple days a week. I know, super unhealthy, right?
If you loved Hot Pockets, but want something a lot less processed without the gunk, be sure to try these homemade ham and cheese pockets. They actually taste so much better than Hot Pockets anyway and are great on the go!
Egg muffins are a great grab-and-go breakfast.  There are so many yummy variations so you never get bored of this easy breakfast!
Here are some other posts you might find helpful!